Francis McNamara, Comcast's senior manager of installations and service in Lansing, was presented with the Patriot Award by the Employer Support of the Guard and Reserve (ESGR) today. McNamara was recognized for his mentorship and encouragement of United States Army Private First Class Daniel Schulte's reenlistment into the United States Army Reserve. Schulte is a Comcast installation and service technician in Richland and nominated McNamara.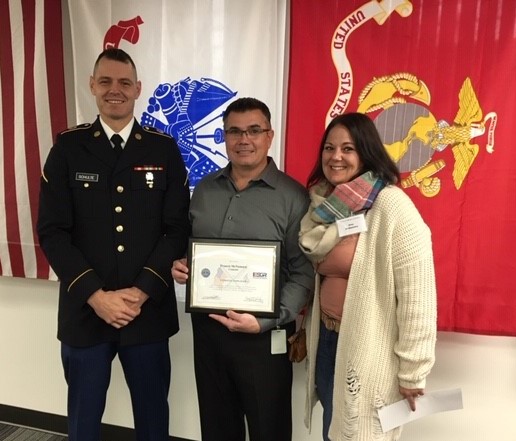 Each year, the Michigan ESGR, a Department of Defense (DoD) office, presents Patriot Awards to individual supervisors who have made significant efforts to support active service members through a wide-range of measures including flexible schedules, time off prior to and after deployment, caring for families, and granting leaves of absence if needed. This year, the award was presented to McNamara at Comcast's Lansing office by Mike Thompson, Lt. Col. (retired) from the Michigan Army National Guard.
Comcast, which recently surpassed its goal of hiring 10,000 veterans from 2015 to 2017, has been consistently recognized for being a top military-friendly employer.  The company was selected in 2016 and 2017 as a finalist for the Secretary of Defense Employer Support Freedom Award, the highest recognition given by the Department of Defense to companies for its support of employees who serve in the National Guard and Reserve.  In addition, the company was recognized by Military Times for the services and support it offers veterans.  Moreover, Military Spouse Magazine recognized Comcast NBCUniversal as the #1 Military Spouse Friendly Employer for 2017.  And Comcast was the first corporate sponsor of Bunker Labs, a national nonprofit organization for military veteran-led startups which also has a local presence in Detroit.