Comcast NBCUniversal is proud to celebrate the immense contributions of Hispanic and Latino communities to American culture, entertainment, and more all year long. This Hispanic Heritage Month, our company-wide campaign, "Be the Next Story Told" ("El Futuro lo Escribes Tú"), is highlighting bold and brave history-makers who use the strong foundation built by dreamers of yesterday to redefine what's possible today.
NBCUniversal and Telemundo's "Be the Next Story Told" ("El Futuro Lo Escribes Tú") Campaign
NBCUniversal is celebrating Hispanic Heritage Month by revealing "Be the Next Story Told" ("El Futuro Lo Escribes Tú") – a multiplatform bilingual initiative led by Telemundo honoring and recognizing the culture, spirit, and achievements of Hispanics in the U.S, and inspiring future generations to continue shaping our history.
The campaign's new anthem spot features an original song delivering an inspiring message in both English and Spanish. The spot showcases special appearances by notable Latinos in the entertainment and news industry, including singer and songwriter Camila Cabello, Telemundo's Award-winning sports presenters Ana Jurka and Andrés Cantor, prominent NBC News and Noticias Telemundo journalists Julio Vaqueiro, José Díaz-Balart, Alicia Menendez, Tom Llamas, Bertha Coombs, and more. For the third consecutive year, the campaign will be adopted across NBCUniversal channels and social networks, coming to life through activations, special content, and programming across the company all month long.
Xfinity Programming
This Hispanic Heritage Month, we are proud to announce Xfinity's newest curated collection of bilingual and bicultural movies, TV shows, and more on X1, Stream and Flex. The destination, "Be the Next Story Told" ("El Futuro lo Escribes Tú"), highlights impactful stories, events, and people of both the past and present bold enough to make history, allow the space for others to build on that progress, and dare to believe the best is yet to come.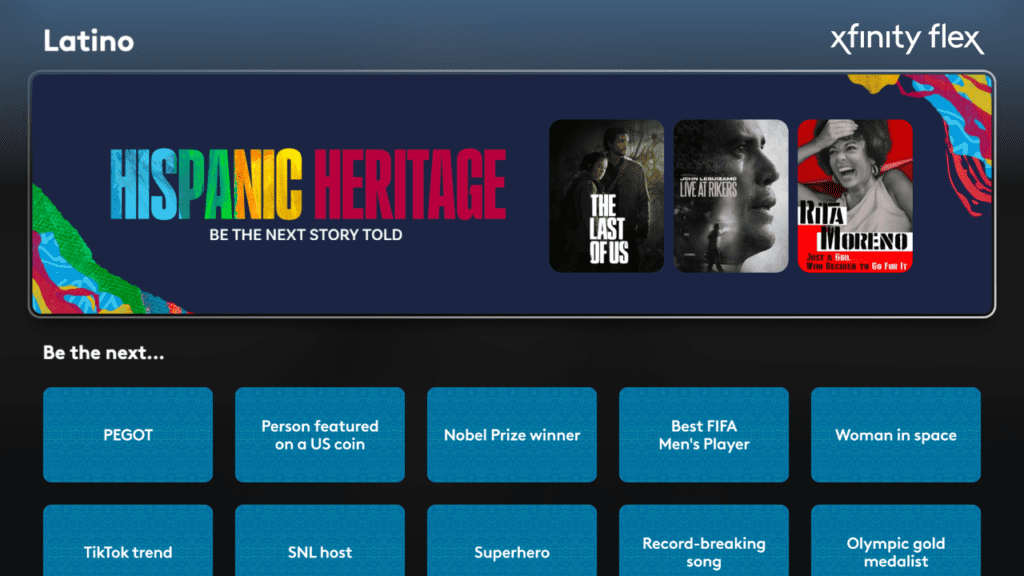 The Black Experience on Xfinity Channel will premiere an exclusive documentary, John Leguizamo Live at Rikers, from award-winning Hispanic actor and activist John Leguizamo, who is also serving as a guest editor for this month's content collection, providing his top picks for viewers (curated before the current strikes). Additionally, in partnership with Leguizamo's digital media company NGLmitú, Xfinity will now offer the mitúTV streaming app. The new app offers a fresh programming lineup and expansion of its already massive digital footprint among the fast-growing English-dominant U.S. Latino population. 
In addition to the thousands of hours of free on-demand choices already part of the Hispanic Heritage Month experience, Xfinity customers on X1 and Flex can enjoy access to more free content for everyone in the family through our "Free this Week" campaign. Watch featured content from Cine Sony, Televisión Dominicana, and Kids Street en Español (09/18-24); RCN Novelas, Video Rola, and Vme Kids (09/25-10/1); ViendoMovies, Canal Sur, and BabyFirst en Español (10/2-8); and Cinelatino, Kanal D Drama, and Primo TV (10/9-15).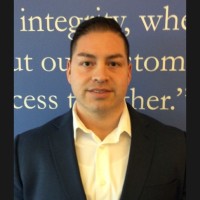 "Hispanic Heritage Month reminds us of the rich tapestry of cultures that make up our nation," said Pedro Tovar, Manager of Business Process Effectiveness for Comcast Michigan, Indiana and Kentucky. "We celebrate the cultural and economic contributions of our Hispanic communities throughout Michigan – such as Holland and Southwest Detroit, whose vibrancy and diversity enrich our state's identity."  
To access this great content and more, Xfinity customers can just say "Latino" into their bilingual Xfinity Voice Remote. 
Comcast Newsmakers
In honor of Hispanic Heritage Month, the Comcast Newsmakers platform is releasing new interviews with leaders who are working to uplift Hispanic and Latino communities. For a second year, original content is offered in English and Spanish, with interviews recorded in both languages. Featured guests include Carmen Feliciano and Laura Arce of UnidosUS, Diego Deleersnyder of the Aspen Institute Latinos and Society, and Christine Nieves of Esperanza. Conversations focus on issues including Latino economic mobility, Hispanic homeownership, and the digital skills divide among Latinos and other underserved communities. Watch on Xfinity platforms using the "Comcast Newsmakers" voice command, at ComcastNewsmakers.com, and on social media. Preview Eddie Garza, CEO of the Mexican American Council, who gives a brief history of the holiday below.
Connection Through Creation
Our Connection through Creation program highlights content creators who are using art and the Internet to create community, honor culture, and spark positive change. Stay tuned throughout the month to see inspirational artwork from Manuela Guillen, Juls Mendoza, Ayiana Porter, and Gonzo (Mario Figueroa) across Comcast's social media and Xfinity platforms.
Digital Equity & Social Impact
Comcast proudly partners with organizations that support Hispanic and Latino communities through Project UP. Our long-standing commitment to UnidosUS helps improve the well-being of Latinos across the country through programs that increase adoption of the internet and increased use of technology, and by honing digital skills among small business owners and entrepreneurs. Through our partnership with the Hispanic Federation, 20 Digital Equity Centers nationwide are helping to provide Internet access and digital skills training to Latino students and jobseekers.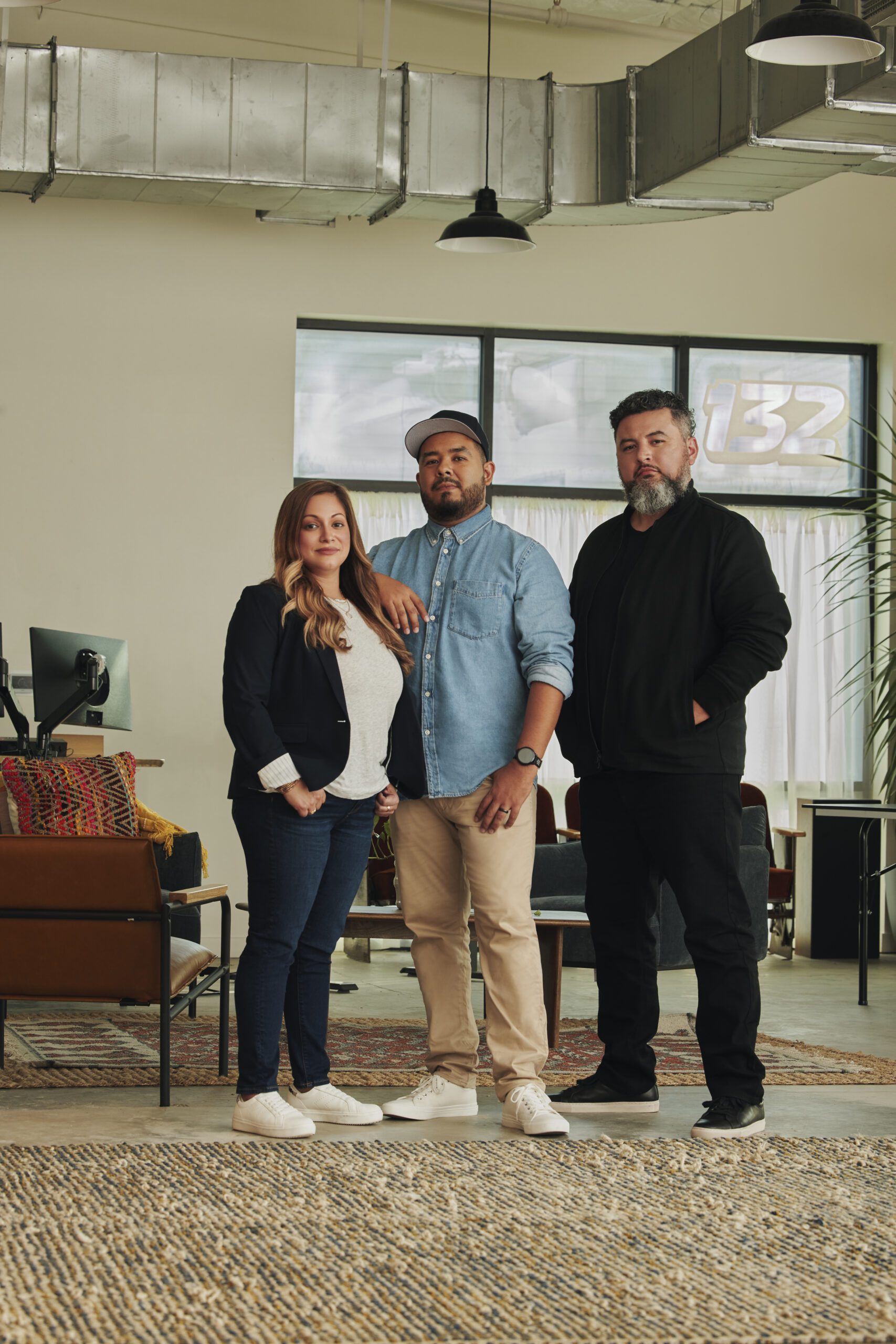 We are also investing in small businesses through Comcast RISE as well as through a partnership with Prospera to support the growth of Hispanic-owned businesses. Additionally, our partners at Aspen Institute Latinos & Society recently released The Principles for Latino Digital Success to inform the design and implementation of effective digital equity efforts targeting the Latino community in the United States. 
In honor of Hispanic Heritage Month 2023, Comcast NBCUniversal LIFT Labs is excited to sponsor VCFamilia events across eight cities, celebrating Hispanic innovation in tech. LIFT Labs sources tech startups worldwide seeking strategic long-term partnerships with Comcast, NBCUniversal, and Sky. In addition to supporting underrepresented founders through initiatives like Founding in Color – a three-part docuseries streaming on Peacock – LIFT Labs is a proud supporter of organizations such as LaFamilia Foundation, whose mission is to bridge resource gaps for Latine startup entrepreneurs and investors.